When I thru-hiked the Pacific Crest Trail in 2017 I was pretty new to ultralight backpacking. I wanted to write this review of my gear so that future PCT hikers can avoid some common mistakes, know what worked best for me and what general advice I'd give regarding PCT gear. I'll also talk about possible alternatives. Weight, price and other useful information can be found in a table at the end.
If you're looking for some addition advice you can always drop me a line, but I also want to further recommend the r/ultralight or r/pacificcresttrail subreddits as a great source of knowledge and advice. A very interesting and helpful page is also the annual PCT Thru-Hiker Survey by Halfwayanywhere.
Disclaimer: None of these links are affiliate links, so I don't earn any money on this.
Tent
I used the Zpacks Duplex throughout my hike. Its a great tent that provides a lot of room while maintaining a low weight. While I do recommend it for general conditions, I personally wouldn't take it on the PCT anymore. The comfortable size of the tent comes with the downside of a rather large footprint. Several times I was forced to hike further so I could camp on an actual campsite.
While this is a very manageable downside of the Duplex, the main downside for me is connected with the weather. The PCT is a very dry trail. It almost never rains. I had less of a handful of nights were it even looked like rain was possibility. With the weather being consistently good, a lot of hikers , myself included, cowboy-camped most nights and the Duplex, at least in my opinion, is not a good tent if you cowboy-camp most nights. I ended up sleeping way more often on top of my tent than in it. I guess if you want a $600 groundsheet this tent is right for you.

Alternative Tents
If I did the PCT again, I would take some-kind of Tarp-Bivy combo. Both mid-style as well as flat tarps work great. If you don't have any experience with tarps, a mid-style tarp is probably a saver start.
Companies that I'd recommend for these kind of shelters would be Borahgear, MLD, Locusgear, YAMA Mountain Gear, Six Moon Design and Zpacks. You can read my review of the Locus Gear Khufu here.

Backpack

I used a Hyperlite Mountain Gear Windrider on my thru-hike. It's a backpack I really enjoyed and recommend to anyone. The Windrider is lightweight, sturdy and simple and with the waterproof DCF as fabric it's a very good companion on any longer (or shorter) hike. Just keep in mind that despite the frame, this pack is not meant for heavy loads. In general I'd advice to have a baseweight below 20 lbs, better would be below 15. While I currently do not use my Windrider, I'd still would love to use it on another thru-hike.
Alternative Backpacks
There are definitely other options out there that would perform just as well. If you have a really low base-weight you could save even more weight and go with a frameless backpack (Though if you already at that point, I'd highly doubt that you you'll need my advice). Well respected companies to specifically find a framless pack would be MLD or Pa'lante. I personally own the Zpacks Nero for smaller trips, but as a 28l pack I would not recommend it for the PCT as there just isn't enough space to carry food for longer stretches.
While the HMG packs are great straight out of the box, if you want something more customizeable, companies like SWD and KS ultralight offer similar styled packs in the same price-range with the add-on of custom changes to the pack. I currently use a custom 40l long-haul from SWD and would highly recommend it.
If you're base-weight is a little bit higher or you don't wanna invest a fortune into a backpack, companies like Katabatic Gear, Gossamer Gear, ULA, Granite Gear, and Osprey offer great alternatives.
Sleeping System
Sleeping Bag/Quilt
I used the Enlightened Equipment Revelation quilt with a 20° F rating. Overall this quilt is not to bad (especially for the price) as long as you know what you are getting with it. The ratings on all Enlightened Equipment quilts seem to be rather optimistic. In reality this is probably closer to a 30° bag then a 20° one. That being sad though its a great quilt for the price. If you are a warm sleeper you can probably get away with the 20° bag but for everyone else I'd recommend the 10° version of it.
Just for clarity's sake I do want to note that some people I know have had draft problems with the quilt. I personally never had this problem, but it might be helpful to learn how to properly close the bags footbox. They also added more down for their 2019 quilts, so hopefully their bags are now more true to their rating.

Alternative Quilts and Sleeping Bags
There are many great alternatives to the EE brand quilts. If you're willing to invest some money I'd highly recommend either Katabatic or Nunatak quilts. These two brands are regarded as the gold standard for ultralight sleeping bags and quilts. There temperature rating are also way more conservative, especially compared to the Revelation. My current quilt, the Katabatic Alsek, has a 22° rating but runs significantly warmer compared to the 20° Revelation.
For quilts that are a bit more affordable but still perform really well I would recommend either UGQ or Hammock Gear. As far as I know these also run a bit closer to their actual temperature ratings.
Zpacks also produces quilts but I have heard very mixed reviews of them, I'm therefore not going to recommend them. For their prices I'd rather get a Katabatic or Nunatak.
If you prefer a more traditionally styled sleeping bag, Feather Friends as well as Western Mountaineering make great lightweight sleeping bags. Traditional brands might also offer alternatives.
Sleeping Pad
I used the Therma-Rest NeoAir X-Lite throughout my hike. There is not much to say about it, but that it is the best ultralight blow-up sleeping pad on the market at the moment. Despite how roughly I treated it, I never had any durability issues with. While I did have one small hole, a small patch was able to fix the leak (I'd would also be a bit overly optimistic to not have a single hole on a thru-hike).
The only time I had problems with this pad was when I slept on snow. If you are a cold sleeper like I am, I'd consider taking a small foam-pad with you to create some more insulation between yourself and the ground. There is also a version of this pad meant for sleeping on snow called X-Therm.
Alternative Sleeping Pads
I wouldn't really recommend any other ultralight blow-up pads, but there are certainly alternatives like the Sea to Summit Ultralight Mat or the REI Flash.
A viable alternative to blow-up pads are foam pads with the Therma-Rest Z-Lite Sol being by far the most popular. I personally never liked to sleep on them, but with the low weight (cut off some panels) combined with a very competitive price they pose a great alternative to the comparatively pricey blow-up pads.
Pillow
This is a highly subjective topic and you should figure out yourself how you like to sleep. I personally used a Pillow Dry Bag by Zpacks wich I used as the dry-bag for my sleeping bag during the day and as pillow during the nights. The cheaper (and very popular) option would have been to just put a buff around a normal dry-bag.
Some people prefer blow-up pillows like the Sea To Summit Aeros. In my opinion pillows are an item were you shouldn't try and save to much weight. While blow-up pillows are quite a bit heavier then just a dry-bag the increase in weight can easily be justified by being able to sleep and rest properly.
Water Filtration
In my opinion this is an easy one. Get the Sawyer Squeeze. It's a reliable, easy-to-use, lightweight filter with a good flow rate and a cheap price. You might get lured into the Sawyer Mini but everyone who has thru-hiked with it will tell you that the flow rate is way to cumbersome.
While the filters by Sawyers are great, I wouldn't recommend their bladders. In my opinion its worth to invest into an Evernew bladder as you going to save money in the long run: Unlike all the other bladders it just doesn't brake. I combined it with a coupler and attached some further strings to the bladder to create a lightweight gravity filter system.
If you for some reason don't want to use a physical filter Aquamira drops could be a viable alternative, but I have no experience with them.
Cooking system
Stove
I used the Soto Windmaster, a stove I'd recommend to anyone. It performs extraordinary in windy conditions while still being rather light. The only negative is the rather long neck wich can make your pot a bit unstable on uneven grounds. Cheaper (and sometimes lighter) alternatives would be the Soto Amicus, the MSR PocketRocket or the BRS stove.
I would not recommend an alcohol or solid fuel stove for the PCT as they pose a danger for igniting wildfires. In some sections they are even banned. You could also go for an integrated system like the Jetboil MicroMo. While these cooking systems perform very well in the wind and are easy to maintain, at least in my opinion the heavy weight increase is not worth its benefit.
Pot
I used the 900ml Evernew Ti Mug Pot, while rather expensive it does provide a very low weight (99 g / 3.49 oz) will still being able to easily cook double meals in it. As with any Titanium pot you should be aware though, that the metal heats up quickly, so you might wanna use a piece of cloth to not burn yourself. A cheaper alternative to the Evernew pots that are just a tiny bit heaver would be Toaks.

Spork and Knife
I used a titanium spork by Snowpeak. Not much to say about it apart from that I personally liked it. Find something that is right for you here: Some people prefer a spoon or some, like myself, prefer a spork. Especially for spoons, bamboo is a great alternative to the titanium.
As a pocketknife I used the Victorinox Classic SD. I think this is a simple one: This tiny tool has everything you'll ever need at an unbeatable price and weight.


Clothing
Down Puffy
I used the Patagonia Ultralight Down Hoody. There is nothing to complain about this one. It's a solid lightweight down jacket that is decently warm and comparatively ethically sourced and produced. Just keep in mind that a down jacket is not an active layer, therefore it's mainly used while in camp. For an active layer a fleece or wind-jacket is  more suited.
Most major hiking brands produce lightweight puffys. Examples would be the Mountain Hardware Ghost Whisperer or some jackets by Montbell. If you want some customization Nunatak or GooseFeet Gear are probably the way to go.
I personally have no experience with synthetic jackets but they do have some advantages. Their main benefit is being less prone to wetting out during rainy wheater. This though comes with the downside of less compressibility and apparently less longevity. Option would again be Nunatak or the Patagonia Micro Puff.    
Rain Gear
I used the Patagonia M10 Rain Jacket (Anorak version, the jacket version doesn't seem to be sold anymore) combined with the Patagonia Apline Houdini Pants (not sold anymore) wich I both liked overall. I barley ever used them though and not a single time in heavy, long lasting rain. While this is without a doubt a great setup for heavy rain areas where you will enjoy the higher breathability of these products compared to some cheaper ones, there are probably a bit over the top for the PCT. An extremely cheap as well as light alternative to these more standard jackets is the Frogg Toggs Ultra-Lite series. Their extremely low price combined with their bulkiness (you might want to get a size smaller then you do normally) and silly looks, gives them an almost legendary status in the ultralight community.
If you're not convinced by the Frogg Toggs or just want something more traditional the Montbell Versalite is another great lightweight rain jacket.
Base layers
I'm completely committed to Patagonia Capilene Baselayers. I used the Lightweight Zip-neck throughout my hike and using the Lightweight Bottoms most of time, while switching to the Thermal weight version for the colder sections ( mainly the Sierra Nevada). All of them are great base layers, but there are certainly different or cheaper alternatives. This is definitely one of the items, where you can head to your local outfitter and try some stuff on. Just don't go overboard and spend a lot of money on something that is either too warm, cold or heavy.
Socks / Underwear
While in the desert a vide variety of socks were present almost everyone switched to the Darn Tough Socks at some point. They are by far the most comfortable and durable socks around that will prevent many blisters and other injuries. Combined with their life time warranty (I exchanged the same pair of socks 4 times for free) they are more than perfect.
Underwear is obviously depending on your gender. I personally really liked my Ex-Officio Give-N-Go, but apparently some of the newer versions have durability issues.
Windbraker
I really recommend taking a windbraker with you. It's a great active layer to give you some extra warmth during colder days without adding much weight. What you have to look out for is the breathability rating of the jacket as this will decide how "warm" it will be. In general the lower the rating the warmer the jacket.
I used the Patagonia Houdini Jacket wich is middle of the pack regarding both weight and warmth. Lighter option with higher breathability ratings are provided by both Enlightened Equipment as well as Zpacks.
Shoes
I started the Trail with the Brooks Cascadia 12 but switched after my second pair to the very popular Altra Lone Peak. While the Cascadia's are certainly good and very comfortable shoes they are sadly not durable enough for a long distance hike. The first pair lasted me around 600 miles and the second one just 400 miles. In comparison I used one pair of the Altra Lone Peaks for over 1200 miles. From what I've heard the durability problem of the Cascadia still persists in their newer edition and I'll will therefore not recommend them at the moment, but I'm willing to give them a shot again in the future.
I will recommend the Altra Line Peaks though. There are at least for me the perfect balance between comfort, durability and weight. But as with anything that goes on your feet I'd still recommend trying them on in a local shop and if you find a trail-runner that fits you better, don't force yourself to use the "popular" option.
I wouldn't recommend traditional hiking boots as there are just to heavy without providing any significant advantage over trail-runners.
Powerbank
I used a 10'000 mAh RAVPower that is not sold anymore. The main thing you have to figure out while shopping for a powerbank is the battery size you need. If you don't use your phone much, you can probably get something smaller (e.g. 6000 mAH) and if you use a camera, chargeable headlamp and so on, you might need a bigger one. Very popular are either Anker or the above mentioned RAVPower.
Headlamp
Headlamp is a topic I struggled with the whole trail. I started with a older version of the Petzl e+ Lite that I really liked, but sadly lost it somewhere around Agua Dulce. I replaced it with the new version of e+ Lite, a headlamp I quickly started to despise. In Bishop, while preparing for all the night hikes in the Sierra, I again replaced my headlamp. This time I went with the more traditional Black Diamond Spot. While the Spot is not an inherently bad headlamp its just to heavy and way to overpowered for my needs.
Nowadays I carry a Nitecore NU25. While I really like this (chargeable) headlamp it has yet to been tested on a thru-hike.
Trowl
While some people enjoy using a stone or piece of wood as their poop-shovel I'd general prefer the handiness of proper Trowel. I highly recommend the Deuce of Spades, but there are certainly other options available.
Just as a quick reminder: Poop the right way and follow general Leave no Trace principals.
Trecking Poles
I used the Gossamer Gear LT4S, a super-light pair of carbon hiking poles. While these poles were very comfortable to hike with, they have, at least in my experience, some severe durability problems. They broke a total 3 times on my hike and while Gossamer Gear does sell replacement parts, it just costs way to much money to keep using these poles. I now use the Locus Gear CP3 wich seem to be quite a bit sturdier, though I haven't used them enough to make a long-term assessment.
In general I'd advise to just go into a store and try some poles. While lower weight is definitely a nice thing to have, the overall comfort is the most important thing about trekking poles. For US hikers the infamous Cosco carbon hiking poles are a popular choice as they are both lightweight and cheap.
First Aid
What you carry in your First Aid kit is obviously dependent to your own medical needs, but there are some common injuries and illnesses you can expect and should prepare for. Definitely carry some basic wound cleaning equipment like antibiotic wipes combined with some plasters and gazes. Medication wise I'd only take some ibuprofen and imodium against pain and diarrhea respectively.
I'd further strongly advice to have some cortisone cream on you to deal with rashes.
Snow Gear
Ice-Axe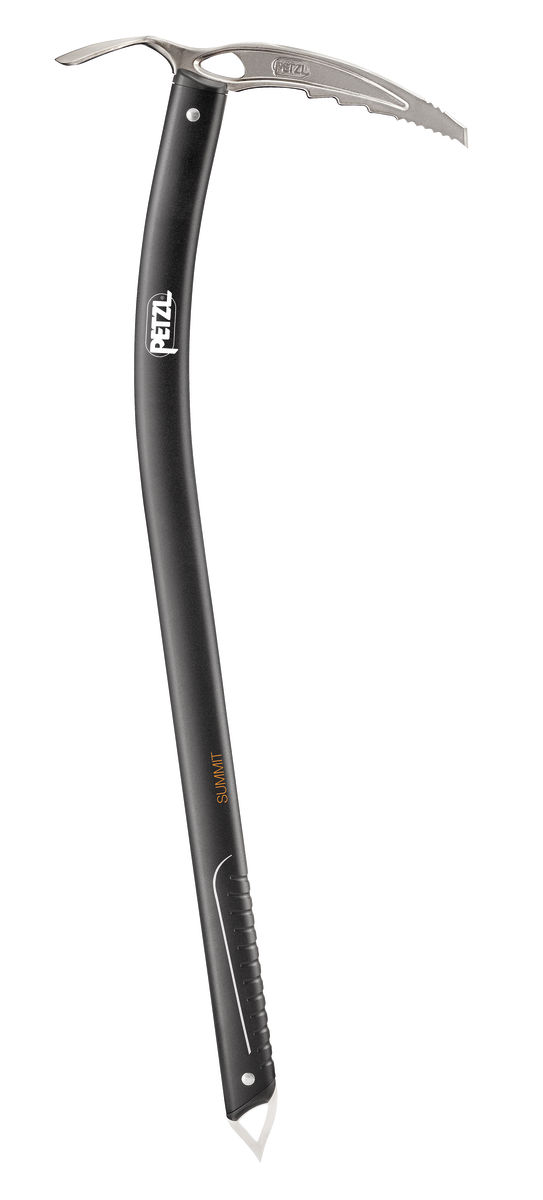 In most years there is probably no need to carry an ice-axe at all, but this wasn't the case when I hiked in 2017. While most people used a standard lightweight glacier ice-axe like the Petzl Literide or the Black Diamond Raven Ultra I used the Petzl Summit, a proper mountaineering ice-axe. Both kind of ice axes are fine to use with the only difference being the length (and somewhat the angle) of the axe wich influences on what grade/slope an axe is best suited for.
One thing that should be noted is that an ice-axe is only useful if you know how to use it. In my opinion it's not a problem if you never used one before, its not as difficult as it seems and rather intuitive. Just read up on the proper technique and practice a bit on some of the early snowfields past Kennedy Meadows.
Microspikes and Crampons
I used both the Kathoola Microspikes as well as the K10 crampons in the various snow conditions we faced in 2017. I would recommend both of them in general, one just has to be careful about the sizing and fit of both them, but especially with the K10. While the Microspikes are probably a save choice for a normal snow year to help during the Sierras, the K10 are way over the top in anything but the biggest snow years. In my opinion for a year like 2017 there were quite a nice addition to my snow gear. Especially the toe spikes can be a great help to climb steeper slopes.
Gear Table
The following table includes all the products mentioned witch all information as of December 2018. For anyone who wants a more standardized format you can also look at my lighterpack. When I just recommended a manufacture, I put down some of the popular options from that company. Keep in mind that some products in the same category sometimes provide very different things, so it's not necessarily the less weight the better.
The links are, if possible, to the producer directly and not a reseller. Therefore you might be able to find cheaper prices on different sites.
Tents and Tarps
Backpacks
Sleeping Bag
Sizes in the following table are all regular / medium.
Sleeping Pad and Pillow
Cooking System
Clothing
Everything Else